Need extra HR support and advice but not every day?  This Service is perfect for businesses who need HR guidance but are not ready to employ a full-time HR person, or maybe have a HR person who needs more resources and support on ad hoc issues.   
Whatever Retained tier you chose, you will always have a dedicated expert supporting you and your business. This means there is always someone at the end of the phone or email to advise and help to find the right solution for you.  In addition, you have direct, unlimited access to the most commonly used HR Guidance and Templates in our dedicated, password-protected Client Area. 
Our four Retainer tiers evolve with your changing needs, giving you expert HR, legal and strategic advice when you need it. We are your partner as you develop your people strategy to promote personal growth and deliver your business objectives.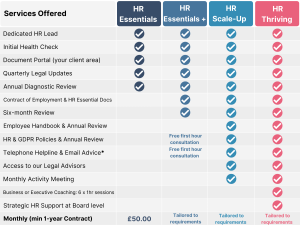 *Covers:
Flexible working
Managing probation and induction
Sickness absence and performance management
Disciplinaries, grievances, dismissals and handling appeals
Bullying and harassment
Managing employee exits and resignations
Small scale redundancies/restructuring (3 roles or less)
Pay and benefits
Family-friendly rights: maternity, paternity, parental rights
Data protection

For more information and a tailored response to your enquiry please contact us via the links below:
Or, please download our HR Diagnostic Tool and Retainer Service information pack.
Your People are your most important asset, they need the best level of support you can give, and Your Business can't afford to get it wrong. Why not have peace of mind with expert HR support and advice, just when you need it?