SYLO | Beyond HR. Customer Experience Survey
In their 10th year in business, the Directors of SYLO | Beyond HR, Sally White and Sarah Stevens, decided to review the products and services provided to our clients. Starting with a 'Customer Experience survey'.
The survey started with an introductory email to our established core of retained and regular clients. Followed up by a telephone interview with our Executive level consultants.
There was a range of questions giving SYLO | Beyond HR a full picture of how our clients view us and what HR Services and products they currently use. We were very pleased with the positive feedback we received and a huge thank you to those clients who gave their time.
The Results
Under the heading "General" the question was – "What can you tell me about your experience of using SYLO | Beyond HR. (good or bad)?". Samples of the responses were:
It's always been good – Sally has seen our business develop so it's a very personal service which is great. Sally is always very responsible and the level of service has always been good.
Very very positive. Been dealing with Sarah on a difficult EE issue and the results are brilliant (could have cost the company lots of money).  Sarah's advice was spot on. 
Very happy so far. We're a small company and haven't had any internal HR structure but we are growing now and it can be quite painful, but they've helped a lot to give me information for the board and I've been able to back up what I say, which has been the support I've needed which they have provided very well.  The reports have been very good.  The new appraisals are much better too, so it's been quite good so far.
We have benefitted massively from the training sessions held with SYLO | Beyond HR. and have already started looking towards January and February for more. 
Whilst the range of HR support SYLO | Beyond HR is wide and varied, the survey highlighted that HR Advice was the most used service. As this table shows, our expert team have been adept at responding to any challenge whether this was recruitment, psychometrics or training.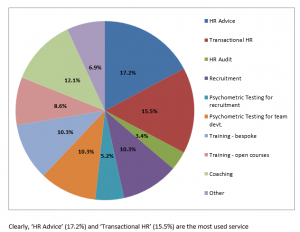 We are looking forward to the next 10 years to see what it holds in store for us; we'll continue to use customer feedback to improve how we deliver HR and Training services and ensure these meet clients' needs. This survey has given us the confidence to move forward knowing that the relationships with our clients have a firm foundation.
For more information on how SYLO | Beyond HR can help your business, contact us here and we will be delighted to talk to you.