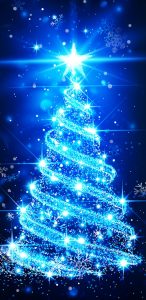 They say it's the thought that counts, and this year we have had lots of time to think about things, our loved ones, the NHS staff, those who have been ill and of course all the people who make our businesses possible. Your greatest asset, your employees. At SYLO | Beyond HR our passion is Your People …. Your Business and this year that has been more relevant than ever. How are we going to thank them this year? Traditionally you would have the office Christmas parties, drinks after work, Mince Pies in the staff room, Secret Santa presents. All of this can't happen in the traditional ways, so what can we do?
A few weeks ago I posted on our social media sites to get a feel for what people were planning, there are some GREAT ideas out there!! I have collated a few, but it is the thought that counts this year, so think about your employees and what would suit them personally. Let them know they matter to you and your business. Along that vein, I have gone one step further, I am "keeping it local". As a small business ourselves, we wanted to support other local small businesses, so if you are local to us, please use these ideas and companies who can help you create your own virtual Christmas Festivities. If you live further afield please shop local in your area. We need to help those businesses to keep going.
So how do you create that festive cheer with employees working from home, smaller groups due to COVID-19 rules and limited venue availability? Read our g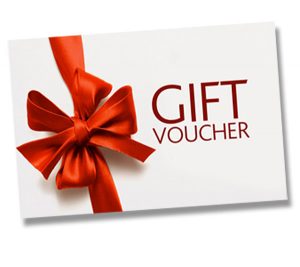 uide, and find something FUN and FESTIVE for your employees and you, of course!!
The Gift Voucher
Get a little more involved than usual, each employee receives a gift voucher for the local shop of their choice. It could be the Toy Shop, The Flower Shop, The Book Shop the list is endless, they can then treat themselves to a gift they would like to receive. Some employers offer to buy the vouchers, others let them spend the money and submit the receipts.
Whichever way you decide to do it, this is a simple, but effective way of letting your employees know you appreciate them.
The Food & Wine
The old favourite, buying everyone a bottle of wine, seems to have notched up a couple steps this year. Remember, it's the thought that counts, if you are going to buy alcohol for your employees, please make sure they do actually drink. And if they don't then have a comparable non-alcoholic alternative instead. Finding out their preference, red, white or rose, would also show your employees you care enough to make the effort. There are lots of local wine merchants who will send their products direct to your employees doorstep, including a personal message too.
A more interactive event is a wine tasting, apparently very popular this year. James Franklin of Ellis Wines told me how they are holding events from an intimate few people to upwards of 350 people dipping in and out of the tasting. This piqued my interest, so I asked him for more details. The company decide on a budget, choose the wine with help from James or one of his colleagues, it's then delivered to the attendees homes and they are sent a Zoom invite to join on the evening. There is everything you would normally get at a tasting, the story of the wine, the tasting and a Q&A session as well. People are free to come and go and listen to the information, or just enjoy the wine. If you wanted to add another dimension to it, the tasting James was "attending" the evening of our chat was running alongside a cookery demonstration. The wines were paired with the food and the event attendees opted if they wanted to join in the cookery lesson too!! What a fabulous idea. Of course it is dependent on your budget, but what a great way to celebrate Christmas.
The Christmas Quiz
The virtual quiz has been a popular event with work colleagues and groups of friends around the world. A Christmas twist on the quiz night is three virtual 1 hour quizzes(so people can't moan if they can't make just one event) each Friday of December 4-5pm. With a number of prizes ranging from a Kindle, tablet, coffee machine to boobie prizes such as a months supply of toilet roll or a book of stamps for a bit of a laugh. It would raise morale and increased positivity. For companies maybe agree that half of the questions will be about your business and taken from your website to increase knowledge which would go down well when pitching to your MD! You would need three sets of questions, though if you were presenting 3 quizzes. Great competition between departments and maybe use the Zoom breakout rooms to full effect on the different rounds if you are working as a team.
The Virtual Christmas Party Ideas
The Office Christmas parties need to be FUN and FESTIVE and our local events company NICE Events have ideas by the ice bucketful!!
Wreath Making – Make your own handmade festive wreaths, hosted by their own expert florist in a virtual grotto.
Build Your own Gingerbread House – A prize for the one that stays upright and the best decorated. Kits are sent out prior to the event with everything they need to build their own masterpiece.
Cracker Making Workshop – Make 6 Christmas Crackers to adorn your festive table. All craft items supplied in plenty of time for the hosted online event.
Virtual Christmas Truffle Making – For everyone to craft their chocolate truffles, a box of joy will be posted straight to each of your team's doors. The event is virtual, not the truffles!!
Christmas Jumper Decorating – Would you make a cringeworthy jumper, or would yours be beautiful and festive? This fun activity transforms a plain jumper into a Christmas Delight.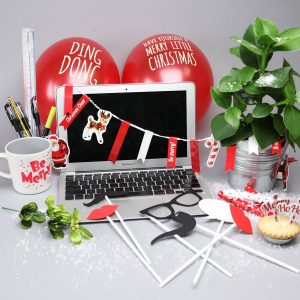 However, if you really can't have Christmas without the party, Darryl and her team can create a virtual party, with it's own customisable website, speeches (pre-recorded) live music and other entertainment. You can even add a party bag to be delivered to the guests ahead of time to get them into the festive spirit.
For more details on any of these ideas or events please contact Darryl at NICE Events for further details
The Fun & Games
Emma Wellstead from Warwick Events shared this fun idea – the Pass the Parcel Challenge.  Hurrah!!!
How does it work? Through their letterbox, every member of the team receives a sustainably gift wrapped artisan parcel along with a TikTok style challenge to 'Pass the Parcel'.  And based on their experience, filming is absolutely hilarious!
On their chosen date, they'll roll with laughter watching the film premiere together in the comfort of their own homes. Seeing how creative colleagues are at catching, throwing and Christmas-ifying themselves!  It can be competitive: awarding prizes for the funniest transformation or if there is more than one team. Get them to compete against each other for the best film.
You can leave them to worry about buying, wrapping, packing, labelling and sending a sustainable gift; what's more they'll even chase up your team to make sure they've received their footage, ready to be professionally edited.
For the exclusive screening, they can dress up, get festive or find the worst charity shop Christmas jumper you can!
Happy Christmas Party organising… but remember there may be those members of your team who can't, or choose not to, join in the fun. Be aware and if you need any help with employee related issues during this time, please do not hesitate to contact us.