Why SYLO | Beyond HR and Value of Difference Programme?
Our support is designed to help teams develop an environment where people feel they belong, be their "best self" at work and address issues which are embedded in systemic practice in the organisation.
This is why we take a practical approach to navigating inclusion by providing a framework that helps the business understand how well you're doing and then creating a tailored support programme to match your needs.
Our programme includes the following, and is depicted here: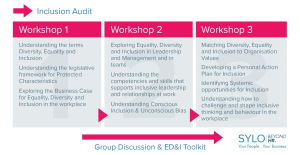 An Inclusion Audit – looking what you've got in place and what feedback you've had from your people
3 half day Learning workshops – tailored to your company values and behaviours and if appropriate, the audit outcomes
Group discussion and learning between workshops
Support from us to develop a tailored ED&I Toolkit, a suite of complementary policies, plus processes and procedures to support an Inclusive workplace and embed inclusive ways of working
We've provided all of these support options knowing inclusion takes more than the good intentions of a group of people. Their efforts must be supported by systems and processes too. When people and systems work effectively together to embrace difference through inclusive thinking and working, then you can start to create real value for your business.
By providing a range of integrated solutions, we can partner with you on whichever part of the programme is the right starting point for your business. For example, you may already have conducted your own audit and want to initially focus on the systems or workshops.
Who is this programme suitable for:
C Suite Leaders and Senior Management Teams
Middle Managers with responsibility for managing people
Wider teams to support the roll out of values and behaviours
"I found attending the recent Value of Difference briefing was a useful and practical 'tune up' for me. It was well delivered by professionals from SYLO who clearly understood this important subject area." Tim Cawdron – HR Professional
Other support Options
At SYLO | Beyond HR we pride ourselves on our ability to deliver (affordable) bespoke Training to meet the needs of any size organisation and provide an extensive range of other Learning and Development options including coaching. Our job specific training includes communication skills, recruitment and leadership. All topics are relevant to equality, diversity and inclusion.
Check out our Action Rocket case study to see the results from just one of our programmes.
The presentation from our latest Value of Difference Webinar (171 downloads) , is included here.
"As always, SYLO delivered a thoughtful and insightful session and I enjoyed hearing their thoughts on valuing difference in the workplace. It has helped me to be able to think about how I can encourage the people I work with to consider how effective their inclusive policies and practices are." Karen Tate – MPDN
"Thank you, amazing webinar." Anna – Ashton Fire
For a free 30 minute consultation, please email us or contact us on 01844 216290.